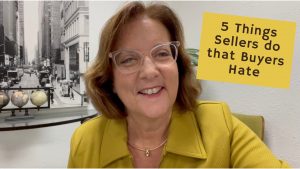 I won't sugarcoat this; selling your home is going to be hard work. Moving is hard work without throwing in the marketing and paperwork necessary to sell your home! The way to make this process easier is to get a good offer quickly. In order to find a Buyer who will fall in love with your house at first sight, avoid these five home selling mistakes. Click here to watch video.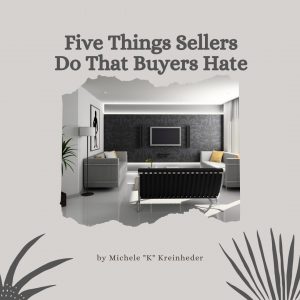 LEAVING YOUR HOME LIKE YOU LIVE IN IT 
Once you decided to sell your home, start thinking as a businessperson or a salesperson not as a homeowner. Staging or decorating it like a showroom definitely helps sell homes, for the same reason that clutter deters home sales. People buy based on how they feel. Before you even list your house, consider the adjustment you'll need to make in your lifestyle. Move non-essential items to a storage unit, to not only create visual appeal but make it easier to clean quickly.  That leaves the attention on a few show pieces, allowing the house to shine through.  A messy house immediately lowers its value, and sends many buyers  running.
AN ELEPHANT IN THE ROOM

If you say there is an elephant in the room, you mean that there is an obvious problem that people do not want to talk about. If your home has a white elephant issue, it's usually better to call  attention to it, rather than pretending it doesn't exist. As the seller have the initiative to fix the problems of the house like cracks on the walls, leaking roof or outdated bathrooms. Be transparent on the issues of the house and let them know what have you done to fix these issues or won't be doing to fix.
SELLER: I'M HOME!
Sellers being at home during a showing are a big reason buyers don't buy a house that might  have made their short list. It's easy to get emotional about selling your home, especially if its a home you have lived in for a long time. People generally have trouble keeping their emotions in check when it comes to saying goodbye, so the best way to  show your house is to go away and let the agent show it. 
SHOWINGS DIFFICULT TO SCHEDULE
More exposure only means more views. More views means more interested buyers that need to be scheduled for a showing. When it comes to scheduling showings, it is best that the house is vacant and is available at any time for the agents to come and go at will, and buyers to drop in on the spur of the moment. This will help the seller sell the house in a short time. Of course many homes are sold occupied. You will need to work closely with your Realtor to determine the best schedule for you and the Buyers.
MISHANDLED PETS
A house is never lonely with your wonderful pet but for some buyers animals can be a turn off or distraction. Removing pets is the best but even if the pets can't be removed, do you best to remove their oder. In other words, keep that litter box clean and dog freshly bathed. While terrariums with snakes, spider or reptiles can be fascinating perhaps covering with a pretty towel is for the best.  
Keep in mind that Realtors are practiced at selling homes for top dollar, as fast as possible. Your life doesn't stop just because you've listed your home for sale. In fact your life will get more full with plans of moving.  If you are thinking of selling your property I hire recommend you hire a professional to help!
My name is Michele Kreinheder but feel free to call me Michele K. I work with both sellers and buyers in the residential real estate market in Long Beach and surrounding cities. If you are thinking of selling or buying, call me anytime at 562-243-2171. I am here and always ready to help! Follow me on YouTube!