Finding the right home can sometimes feel like hunting for a needle in a haystack. Selling your home can be just as stressful as purchasing a home. Selling can be stressful from start to finish so here are a few things to remember as you navigate your home sale.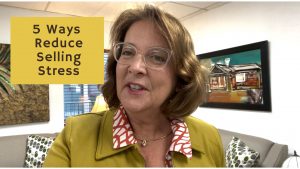 FIND THE RIGHT AGENT
Do-it-yourself projects are in vogue these days. A Real Estate Agent's job is to minimize negative factors throughout  the transaction. That starts with controlling the showing situation by being  strict about showing instructions, and helping you get your house ready for showings. 
Sellers net more when they use an agent than when they try to do it themselves. In addition to selling faster, a professional agent knows how to properly price and promote your home, ensuring you get the best possible sales price and terms. 
If you choose to work with the right partner, you'll feel a huge weight lifted off your shoulders. You'll feel lighter and in charge of the process.
MAKE SHOWINGS EASIER
Be flexible to allow for as many potential buyers as possible viewing your property. This means you need to make your home easy to show, pick-up and view. This is the time to take spring cleaning seriously. Clear out all unnecessary items from the home; closets, drawers, extra clothes, old unwanted furniture. Donate to charity, hire a dumpster or rent a storage space; buyers will look in every space and open all drawers and cabinets, make sure your home seems spacious. Spend some time to depersonalize by removing excessive pictures and hide heirlooms. Finally, deep clean every space top to bottom. Before you put that sign in the front yard, spend a little time and elbow grease to make sure you welcome your potential buyers with the best version of your home. Review the listing online for accuracy and stay in touch with your agent for feedback from showings.
TIME TO LET GO
You love your home! Perhaps you bought it with the intention of raising your kids there or maybe you have found that your household now includes aging parents or even a roommate you hadn't expected. Moving can create mixed emotions, but by the time your house is listed, you must view your house as a commodity. Buyers  are trying to fit themselves into their own house, not  fit themselves into your home. They will want to remove anything that doesn't feel like them and  they want the freedom to talk about it with one another while they're shopping for a home. So if you  don't want to hear it, then try to leave the house  when it's being shown. 
DON'T BE A TOUR GUIDE
Buyer's know exactly what kind of house they want and Buyers would know quickly if this is the house for  them. Don't be a tour guide explaining all the good things about the house instead try taping a small sign to anything  special that you want to call attention to. If the buyers are interested in the house, those extras will  be a nice touch that can put them over the edge.
THINK OF THE WORST CASE SCENARIO AND TRUST YOUR AGENT
Selling your home can bring unexpected issues. Once you get an offer, let your agent pilot the plane. If you're running up into the cockpit every time there's a bit of turbulence,  you'll just distract the pilot but you won't actually change the turbulence. It's much better to hire an excellent pilot in the first place, so that when  turbulence does hit, you are confident he or she will  handle it correctly. In real estate transactions there is ALWAYS  turbulence. There is never not turbulence.  Turbulence will happen. But with the right agent you will both go through the turbulence and land safely.
The most important aspect of a successful home sale is the relationship you have with your agent. Be transparent about your needs, concerns, and goals; insist that your agent do the same, and working together you will navigate through your first home sale successfully.
When it's time for you to sell your home, I'm on your side, and ready to stand up for you. Together we'll try to  control the showings, eliminate problems during showings, manage your time effectively, and stand up to the  challenges that create turbulence during the sale. Experience counts for a lot when it comes to working with a  good listing agent. Call me 562-243-2171 for a listing appointment the moment you start thinking about selling. Here is link to our "5 Ideas to Reduce Stress of Home Selling" on Youtube video.