FALL 2020 – November 7
**Due to COVID-19 Location to be Determined – sign up below for updates**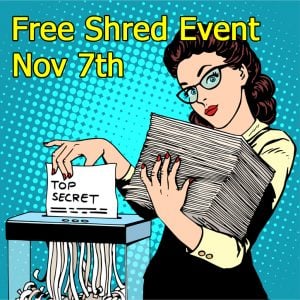 How it all started
Way back in 2009 when looking for a way to jump start my career and introduce myself to the community as a Realtor it was suggested I sponsor a free document shredding event. That initial idea has grown over years into something special that happens biannually; once in the fall at Wilson High and once in the spring at Millikan High School.
History of the High School Shred Events
Four years ago Wilson High School administrators put me in touch with Kimberly Johnson who was then the leader of The Female Leadership Academy. The Academy was looking for a way to raise funds and I was looking for an enthusiast group to host the event. It has become a perfect win-win-win situation. I see old friends and meet tons of new people (yes some attendees have become clients), attendees clean out their houses and The Female Leadership Academy raises much needed funds.
What to expect at the Shred Event
Due to COVID-19 our plans are fluid for the Fall 2020 Shred Event. Once we have the approval of City of Long Beach, Wilson High School and also the California Association of Realtor directions will updated and posted here. Thank you for your patience and understanding.
The Funds
This is the Academy's only fundraiser of the year. The funds help supplement college field trips. The Female Leadership Academy is helpful for students who are serious about their education future. Your generous donations are greatly appreciated.
Sensitive Document Shredding Rules
Rules for Shredding: no x-rays, newspapers or magazines. Papers with clips and staples are accepted. Do not leave your containers at the event because cardboard boxes and plastic bags can not be shredded. There is a 5 box limit per vehicle.. If you have more questions feel free to contact Southern California Shredding at 949-305-5511.
Fall Event at Wilson High School
Our Fall event at Wilson High School went well! Kudos to Wilson's Female Academy for rising to the occasion. Shout out to 3rd District Councilperson Suzie Price and her Legislative Assistant Gabriela Yates for your help. Mark your calendars for WIlson's November 7, 2020 event!
Acknowledgements
Thanks to the hardworking members of the Academy. Thanks to Erin Fejkar for taking a leap of faith and allowing me to hold the first event. Special thanks to super organized Wilson Counselor Stephanie Bilvado for being there when I needed her the most. Thanks to my new partner at Millikan, English teacher Loretta George for being crazy enough to say yes and say yes again. Lastly thank you to the attendees for generous donations and patience.  I am thankful that my 'regulars' have become my friends or it is my friends have become my regulars.
Newsletter and Reminders