November 6, 2021
Gates open at 9 and close promptly at noon
Location to be Determined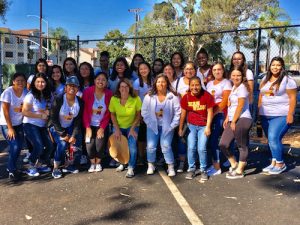 Raising Funds for Local Groups
Our Spring 2021 that was held at Our Lady of Refuge Church School was a phenomenal success! It was as smooth as can be by Principal Green and his parent volunteers. Your generous donations went to the parish elementary.
Our long association with Female Leadership Academy at Wilson High School will hopefully be able to pick up where we left off come fall 2021. Stay tuned for definite location information! We will maintain our tradition of holding the Shred on the first Saturday in November, which is November 6 this year. Sign up for our monthly newsletter here to further updates! 
Rules and Regs
Volunteers will remove your boxes from your car. Do not touch or move receptacles. Do not leave your boxes or bags. Practice good social distancing with Shredding Truck operators and other participates. Use common sense when lining up for a truck and try your best not to block the flow. If you have not been vaccinated please wear a mask.
How it all started
In 2009 I was looking for a way to jump start my career and introduce myself to the community it was suggested I sponsor a free document shredding event. That initial idea has grown over years into something special that happens biannually. We couldn't be more pleased with the positive feedback provided from past attendees and the amount of donations raised over the years for various non-profits. HELPFUL HINT: Don't get there too late! Doors will close promptly at noon. I suggest 10:30 as optimum time to attend.
The Funds
Spring 2021 event raised funds for the Our Lady of Refuge elementary school. Your generous donations were greatly appreciated. Our Shred events are the only fundraisers for The Female Leadership Academy at Wilson High School. The Academy educates and supports continuing education of Wilson's female students by sponsoring college trips and guest lectures while stressing accountability.
Sensitive Document Shredding Rules
Rules for Shredding: no x-rays, newspapers or magazines. Papers with clips and staples are accepted. Do not leave your containers at the event because cardboard boxes and plastic bags can not be shredded. We do not have a limit but I trust you to use your common sense on amount. If you have more questions feel free to contact Southern California Shredding at 949-305-5511.
Newsletter and Reminders