Buyers love 90815
Buyers often narrow down their search to anything in the 90815 zip code of Long Beach. While Belmont Shore and Belmont Heights are wonderful in their own right, the 90815 offers some benefits that those areas can't. It seems silly but parking is a huge benefit in the 90815.  Most single family homes have a least one to two parking spots in their driveway but many have two-car garages and plenty of on-street parking.  Another huge benefit of 90815 is the easy freeway access. Being close to the water is obviously lovely but driving to get there at the end of a long work day can be taxing.
Where is 90815 in Long Beach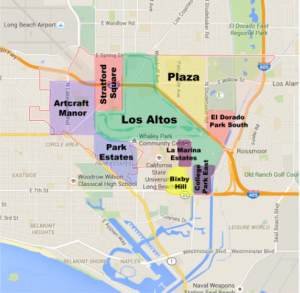 90815 is bound by Spring Street to the north, 7th Street to the south, the 605 to the east and Redondo/Traffic Circle the west. But do you notice on the map that the 405 freeway runs right through the middle of 90815. Also 90815 is a very short distance to Marina Stadium waterway and the ocean? Have you ever flown out of Long Beach airport? Imagine being 5 minutes from this charming airport. Flights are restricted to the hours of 7 am to 10 pm and the number of flights per day are capped at a manageable level. Los Altos surrounds the campus of Cal State Long Beach bringing a valuable cultural and sports dimension to the area.  The Plaza area is attractive for its location across from El Dorado Park, Golf Course, and Nature Center. To be it mildly, 90815 is in a perfect location in Long Beach!
Properties in 90815
There are nine distinct neighborhoods within 90815. The most expensive areas with larger homes are Park Estates and Bixby Hill. The remaining neighborhoods' homes come in a variety of sizes with differing degrees of upgrades. Almost all these homes were well-built in the late 40s to the mid-50s and have not only withstood the test of time, but have improved. You can still find homes in their original size of just a one bedroom. On the other end of the spectrum there are many two-story beautiful rebuilds. 90815 is good area to look for a rental home or to invest in purchasing an investment property. Remember that first rule of buying real estate; location, location, location. There is something for everyone in the 90815. Check out the more affordable condo complexes here.
See all current single family homes on the market at link below.
If you are thinking of buying soon call me, Michele K at 562-243-2171. I can help guide you to your perfect neighborhood in Long Beach!