Market Update for Long Beach 90815 – November 2021
The housing market in Long Beach in the 90815 zip code continues its steep march upward. Click here for my 2 minute video breakdown of the numbers. 
Let's compare November 2021 to November 2021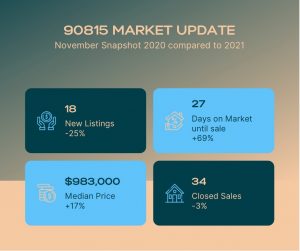 A snapshot comparing a single month this year to last year is always interesting. There were a total of 18 new listings in November which was 25% less than November of 2020. The homes that did go into escrow were on the market for an average of 27 days. This was a whopping 69% higher than November of 2020. The median sale price in Long Beach's 90815 zip code was $983,000 which is 17% higher than prior November.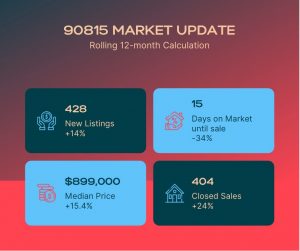 Perhaps more telling is the rolling 12-month market update. There were a total of 428 new listings which was up 14% while days on market were a very short 15. The median price was $899,000 which means the increase this year has been 15.4%. Let's put this into perspective with a scenario. If a home sold 12 months ago for $900,000 the price today would be $1,035,000 using the 15.4% increase.
These double digit percentage increases in prices has everyone wondering about affordability. Below is information provided directly from C.A.R. or for a more in-depth article click here.
Affordability Update from California Association of Realtors
– Twenty-four percent of California households could afford to purchase the $814,580 median-priced home in the third quarter of 2021, up from 23 percent in second-quarter 2021 but down from 28 percent in third-quarter 2020.
– A minimum annual income of $148,400 was needed to make monthly payments of $3,710, including principal, interest and taxes on a 30-year fixed-rate mortgage at a 3.07 percent interest rate.
– Thirty-seven percent of home buyers were able to purchase the $600,000 median-priced condo or townhome. A minimum annual income of $109,200 was required to make a monthly payment of $2,730.
If you live in Long Beach or surrounding cities, I encourage you to sign up for our email updates. We keep you informed on 'What's Happening in Long Beach'! From the fun stuff to housing market updates.