The 4th Annual Holiday Lighting of the Letters in Los Altos at Whaley Park kicks off on Sunday, December 8th.
History of the Letters
This unique holiday tradition began in the 50s in the then new development of Los Altos. The homes on the perimeter of Whaley's eponymous park would illuminate large aluminum foil covered letters spelling out 'Happy New Year' and 'Merry Christmas'.  Los Altos residents have fond childhood memories of the family trip to Whaley Park for this special holiday display.
Somewhere along the way the tradition petered out but fortunately some of the letters survived. There are numerous stories of new homeowners being baffled when finding these letters stored in their garage rafters. A granddaughter who inherited her family's home thought the 'R' stood for the family last name when actually it was the 'R' in Merry!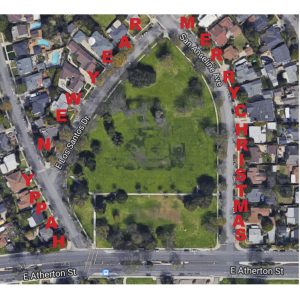 Tradition Revived
Long time Long Beach resident Bob Soukup had a passion for seeing the letters return and spread the word until someone listened. Thankfully a core group of Los Altos neighbors helped to revive the tradition in 2016. Lighting of the Letters' kick-off party takes place each year on the Sunday after Thanksgiving weekend. This year's 4th annual event is on Sunday, December 8th.
The Event
The Lighting of the Letter event takes place in the northeast corner of Whaley Park starting around 3:30. And what a fun event and spectacular light show we have planned! Holiday music will be provided by a quintet of talented Millikan High music students. Santa has promised to make a special appearance. Santa and his special throne make for a perfect photo opportunity. Don't miss out on the bringing a special memento home from the craft table. There will be two bounce houses this year; one for older children and one for the younger children. Los Altos neighbors are invited to bring a potluck item but not everyone need participate; we need eaters too for those delicious goodies!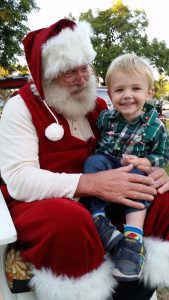 "I Love You More Than Christmas"
Los Altos resident Deborah McGinnis will be on hand to sign copies of her newly released Children's Book "I Love You More Than Christmas". What a great souvenir!
Surprise Ending
We don't want to give away too much of the surprise but let's just say this year's Lighting of the Letters is going to the best ever. As dusk settles in the Letters will lite up.
Special Thanks
There are many people to thank for bringing this all together. Bob Soukup for telling me the story of the Letters and suggesting we bring it back. Bill Marshall volunteering his time and truck. Karen Marshall for making the tables look so wonderfully festive. Lori Davidson giving up valuable space in her shed to store the Letters. Noreena Trent for being so darn clever and crafty and generous with her time. Thanks to Joe Mello of the Los Altos Village Neighbors for creating a Los Altos T-shirt with historical logo. The T-shirt is available for purchase at $10 each – simple call me directly at 562-243-2171 and I will be happy to deliver. RIchie Brand for all his help all the time. Holly and Tom Applegate for always being there when we need a extra body. Thank you to Councilperson Daryl Supernaw and Barbara of the 4th District office for all your support over the years. And the lastly and most importantly, a huge thanks goes to the residents who live around Whaley Park and happily let the displaying of the Letters occur – wouldn't happen without you!
Order Your Los Altos Village T-shirt Today! Just $10!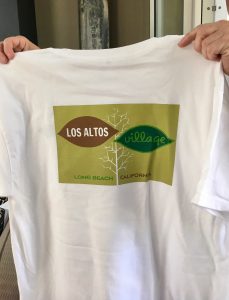 Michele "K" Kreinheder – The Hardest Working Agent in Town!