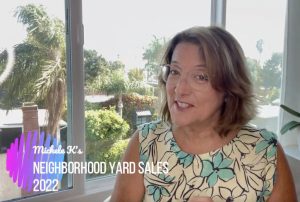 Yard Sales in 2022
We preparing for a fantastic 2022 selling season in Long Beach! Are you getting ready too? Even if selling your home or buying a home isn't in your near future, perhaps jumping into one of our popular Long Beach yard sale events is.
It is definitely a case of the more the merrier when it comes to a community yard sales, so be sure to tell your neighbors. Be that street that all the shoppers can't miss!
Oh and if you are thinking of buying or selling soon, contact us here today! We have the experience and tools to help you succeed.
If you are not sure which neighborhood you belong, simply call me or text me your address at 562-243-2171 or email [email protected]
7 Easy Steps to a Free Permit 
**You must return the application two weeks, plus two days, before the yard sale date**
Scroll to your neighborhood below
Click 'download permission form'.
Print and sign the downloadable permission form.
Click 'Application'
Complete by answering all the questions.
Upload a copy of your gas/water bill as proof of residency, or any piece of mail with your name and address is acceptable.
Upload your signed permission form.
Helpful Hints– a phone snapshot of permission form and proof of residency can be uploaded as jpeg. This may be easier than scanning as a pdf.  Also keep in mind this yard sale will count as one of the two you are allowed each year. Click here for City of Long Beach community yard sale guidelines. Do not hesitate to call 562-243-2171 if you need assistance. We are here and always happy to help!
We Supply all this for your Best Yard Sale EVER!
We will deliver your permit but it might be as late as the morning of the yard sale. Once received tape your permit to your front door. Don't bother with putting up signs, my friends, we have you covered in that department. Oh, and we will make every effort to get donuts to you. If at any time you have questions, or you didn't get a delivery of permit or donuts, call me directly at 562-243-2171. Click here for our blog on Yard Sale Tips!
Our promise to You
This will be your easiest and most successful yard sale ever!
Sign up for video newsletter here – lots of good area news and other fun stuff
Watch my 2 minute video for tips! 
Saturday, May 21 (sign-up by May 5)
Saturday, June 18 (sign-up by June 2)
Saturday, July 23 (sign-up by June 30)
Saturday, September 10 (Sign-up by August 25)
Saturday, September 24 (Sign-up by September 8)
Saturday, October 1 (Sign-up by September 15)
Saturday, October 8 (Sign-up by September 22)
A method to my Yard Sale madness
While organizing community events is super rewarding, it is organizing a home sale, or finding a Buyer their dream home that makes our heart sing! If you are thinking of selling or buying soon call me today at 562-243-2171 to set an appointment. I can't wait to be of service!