UNLESS YOU PLAN TO COMPLETELY RENOVATE YOUR HOME, CHANCES ARE  YOU'LL ONLY BE MAKING PARTIAL UPGRADES BEFORE SELLING. WHICH ONES DO  YOU CHOOSE? WHICH WILL ATTRACT A BUYER, INCREASE YOUR PROFIT, AND PAY  FOR THEMSELVES VS. BEING AN UNNECESSARY WASTE OF TIME AND MONEY?
"The faster a home sells, the closer to your asking price it sells for; the slower it sells,  the more the final offer drops"
This is the rule of real estate keep this in mind if you are planning to sell your property. Many upgrades may help your home sell faster, but not for more money than market value. With that in mind, here  are some thoughts about what upgrades to skip  and what to focus on instead:
KITCHEN
A kitchen upgrade might just be a waste of money. The exception is that if you have only one outdated element in the kitchen, and everything else looks fantastic, then consider upgrading that one element.  For a dated kitchen, it is advisable to professionally clean the kitchen and appliances so everything smells great, upgrade is not necessary in this case. Remove old appliances  altogether, and super-clean the empty spaces.  Then paint all wall spaces in the kitchen that  show. If you can afford it, add a new faucet to the  sink and a new range hood, especially if your old  one looks grease-caked. These things tell buyers that you have maintained the home, and people can imagine themselves cooking there while they  fix it up to their tastes.
EXTERIOR PAINT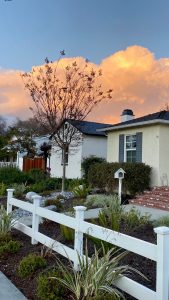 Like any other upgrade to your home, painting  the entire exterior only matters in context of the  whole. If your home is nicely updated everywhere except the exterior paint, then painting will  matter. But if your roof is 40 years old and looks  like it might leak in a dozen places, or if your  windows are cracked, or your gutters are sagging,  then painting may not make a difference. Strip and touch up  badly peeling paint, fix popped siding, repair a  cracked pane, tie up or cut dangling wires, clean  or remove gutters, wash the dirt off your siding  using your garden hose, etc. Make a list of  everything you can reasonably do to the exterior,  financially and physically, and then do what you can. Cleaning up the exterior might make more of a  difference than painting it. A clean exterior won't  necessarily make it sell for a higher price, but it may make it sell faster. And as you know, a faster sale usually means a better price than a slower  sale.
LANDSCAPING
Like the exterior paint, landscaping can be daunting if it's been let go. If your home is in great shape, but your landscaping is awful, then it might  make sense to upgrade and invest in re-sodding or planting a new flower garden and adding much. But if your landscaping is as dated as your house, then the best thing to do is tidy it up. Trim everything from the grass to the trees. Get rid of anything that's obviously overgrown, like huge box hedges or ivy. Don't worry about planting a beautiful garden. However, a splash of flowers in a flowerpot near the door will add a nice touch.
ROOF
If the home is in otherwise great shape, then having an upgrade or replacing the roof might be worthwhile. On the  other hand, it might not matter. The market will  tell you what to do. Have your agent do an  analysis. In a hot market, you may be able to sell  for top dollar without replacing the roof. 
BATHROOM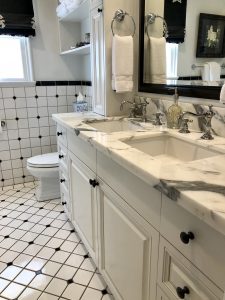 Consider replacing old shower doors or  resurfacing the tub for a fraction of the cost.  Consider upgrading the light fixtures and faucets.  They don't have to be expensive, just new.  Remember, you're only trying to sell the home! While it may not make people rush to give you offers, a new toilet at  least won't push people away. Like the kitchen,  clean, clean, clean your bathrooms.
POPCORN CEILING
If you have either asbestos or Styrofoam ceiling, only remove it if everything else in  the home is lovely. An alternative to removal is to have the ceiling spray-painted white. 
FLOORING
Should you upgrade or refinish the carpet, tile, or  hardwoods? Like other upgrades, don't do it unless that's the only thing holding back the house. You won't make your money back. If your hardwoods are seriously  damaged, then carpeting over them might help  your sale. Or if the only problem with our home is  the hardwoods, then you'd want to refinish them.  In most cases, with flooring, you'll only make your  money back in the sense that your home will sell  faster, not necessarily for a higher price. But if everything looks equally dated in the home, then cleaning it is enough.
INTERIOR PAINT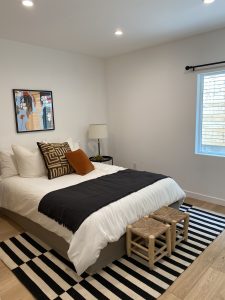 Don't bother repainting over colorful walls if your  paint job already looks good. Ignore the advice to  repaint in neutral colors. A tastefully done green  kitchen looks fine, for instance. Or a cobalt blue. If you've chosen garish, primary, or dark colors for entire rooms, you'll want to repaint those in lighter colors. A totally dark room tends to drive  buyers away. Also, always repaint entire walls that look stained or dingy. In a hot market,  sketchy painting might not matter as much,  because people are willing to repaint if it means  landing a good house. But in an average or slow  market, it might turn people off. 
Upgrades that you do are subjective. It is not always necessary. The right approach is to consider the whole house, the real estate market around you, your selling goals, and more.
A Realtor's job is to walk sellers through each step of the selling process from listing to closing. Let me, Michele K be the one to help you sell your home for top dollar. Call me anytime at 562-243-2171.